Toto® Toilets - Perfection by design
Harry Clark is proud to feature Toto high efficiency toilets.
If a toilet is "high efficiency," flushing twice to clear the contents isn't exactly efficient. TOTO's rigorous flushing performance testing methods have proven to be more extensive than current industry standards, helping to ensure outstanding one-flush performance and true water savings.
High Efficiency Toilets (HETs) should be able to flush using at least 20% less water than is mandated by law and should not need to be flushed more than once to do their job. They should require minimal cleaning with environmentally unfriendly detergents. They should flush quietly. They should be user friendly and comfortable. And they should be available in a wide variety of design styles that fit with the existing (or future) bathroom décor. These are the guiding principles that drive our design of high-performance, High Efficiency TOTO Toilets.
Why low flow ?
Water is pumped in most cases several times before it reaches our homes here in the bay area. There is cost for electrical power for every gallon of water we receive. Save water also save electricity and helps save the environment. Today all toilets must use 1.6 gal per flush or less.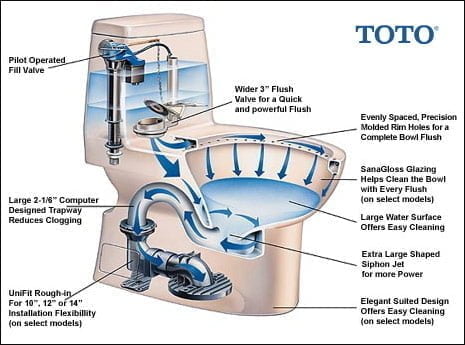 In 1987, 1.6 gallon-per-flush (GPF) legislation was passed in Massachusetts, giving manufacturers two years to comply. Most manufacturers simply reduced the size of their tanks, which resulted in poor performance and multiple flushes.
At TOTO, we had already optimized the performance of our toilets since we'd been designing and developing low-volume flushing systems for decades. Most recently, the EPA has integrated some of our stringent methods into its testing protocols, a testament to the effectiveness of our approach to water savings. In fact, our rigorous flushing tests are more extensive than current industry standards so we can ensure outstanding one-flush performance and true water savings.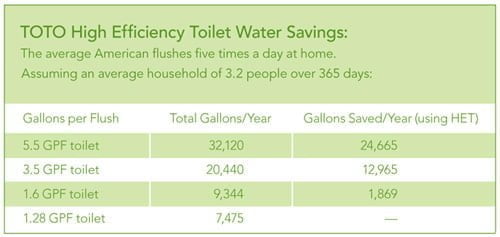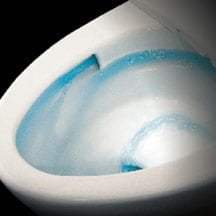 The Double Cyclone flushing system harnesses the power of water and gravity to create a more powerful 1.28 GPF that maximizes cleaning action. Double Cyclone features:
Two nozzles (instead of rim holes) use water more efficiently for a better rim and bowl wash and result in less trapped dirt and bacteria and less cleaning.

The dual-nozzle water propulsion system allows more water to be directed to the siphon for a more powerful flush.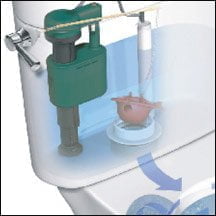 Unlike pressure assist toilets, which can be noisy and are made with more complicated moving parts, E-Max is a simple and quiet solution for effectively flushing 1.28 gallons. Utilizing the same proven engineering as our legendary 1.6 GPF G-Max flushing system, the 1.28 GPF E-Max reinforces TOTO's performance reputation while offering an additional water savings of 20%. E-Max features:
Wide 3″ flush valve provides a quick, consistent and powerful flush.

Large 2-1/8″ trapway is glazed to optimize waste passage.

Pilot-operated fill valve ensures quiet operation and a clean shutoff at any water pressure.

Extra-large siphon jet works in conjunction with the large glazed trapway; the siphon jet pulls away waste with incredible force.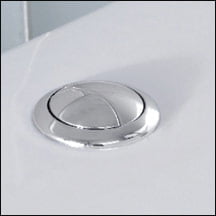 The TOTO Dual-Max flushing system is the leading choice for dual flush performance and conservation because it doesn't sacrifice performance for conservation like many other dual-flush solutions in the market. Our goal was to optimize water conservation and set a high bar in flushing performance. Dual-Max features:
An integrated control that allows you to select the appropriate amount of water usage from 0.9 GPF to 1.6 GPF.

TOTO Aquia® toilets with Dual-Max flushing feature a clean, skirted bowl design, offering an unmatched convergence of style and efficiency.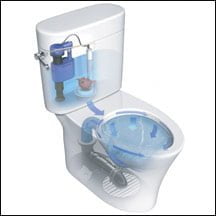 It's a scientific fact – gravity plus significant centrifugal force will spin most anything away efficiently. G-Max's extra-wide 3″ flush valve and . And with G-Max's powerful siphon jet, the system . G-Max is the industry benchmark for flushing performance with features like:
A larger 2-1/8″ glazed trapway offers increased flow, drawing water into the bowl more quickly and then away more forcefully to prevent clogging.

A huge 3″ flush valve creates a quicker, quieter, more forceful flush.

An extra large siphon jet generates unmatched power for one-flush superiority to make sure what goes down stays down.